By
Ray Proper
Dec 12, 2018
The Nagoya City Science Museum (NCSM) is a fairly recent addition to the list of things to do in Nagoya. The website highlights many interesting points about the museum, starting with the distinctive appearance of the spherical shape of the world's biggest planetarium, called Brother Earth.
The diameter of the sphere is 35 meters, and a highly realistic starry sky is shown on the planetarium's screen within.
 Other Highlights Include:
Deep Freezing Lab where you can see a complete aurora in the exhibition room at -30C degrees! You can also observe a variety of real ice and experiments involved with it, and find out what a polar region is like. a -30 degree ºC room where visitors can see man-made auroras
Tornado Lab where you can observe a 9 meter-high man-made twister.
Water Lab where you can learn about the properties of water through experiments conducted at each stage of water's cycles; clouds, rainfall, rivers, and oceans.
Electric Discharge Lab where bolts of electricity 4 meters long are discharged with a roaring crack from two towering Tesla coils.
There are new programs every month at the planetarium, as well as public projects tailored to public school students.
Brother Earth / Planetarium Regular Programs
General Projections – Easy explanations about comprehensive astronomical topics are presented every month. For example, how to observe stars at night.
Night-Time Projections – For adult visitors. These shows feature a special laser show in addition to usual show content. Reservations required, Japanese language only, monthly on Saturday at 18:30
Kids Hour – A playful planetarium for kids full of fun activities teaching how to find certain stars at night, stories of constellations, or space travel. Japanese Language Only.
Another interesting point about the science center is the environmentally friendly facilities themselves. Here are a few of the most notable eco-friendly aspects of the new building.
Photovoltaic Power Generator – A photovoltaic power generation panel inserted between two panels of glass is set into the glass walls of a staircase.
Wind Power Station – Two windmills of straight wing/vertical shaft type are installed on the northeast wall of the 4th and 5th floors of the building.
Green Wall – A green wall unit measuring about 1,500 square meters has been installed on the south side of the building to reduce the air conditioning load by reducing the surface temperature of the outside wall and thus reducing the effects of the heat island phenomenon.
Cool heat Tunnel – To reduce the burden of air conditioning on the environment, outside air is taken underground where it is cooled in summer and heated in winter through geothermal utilization before being sent to the air conditioner.
Rainwater storage Tank – An underground storage tank to store rainwater collected on the roof that can be used for toilets and for watering the green wall.
Why not take the family out for a day of learning and fun? Depending on the season, the building will be either quite warm or quite cool; what better excuse to go anywhere in Nagoya in Summer than "they have great air-conditioning!"
Nagoya City Science Museum
17-1, Sakae 2-chome, Naka-ku, Nagoya 460-0008 (Google map)
Phone: 81-52-201-4486
Hours 9:30 A.M. to 5:00 P.M.  ※Last Entry by 4:30 P.M.
www.ncsm.city.nagoya.jp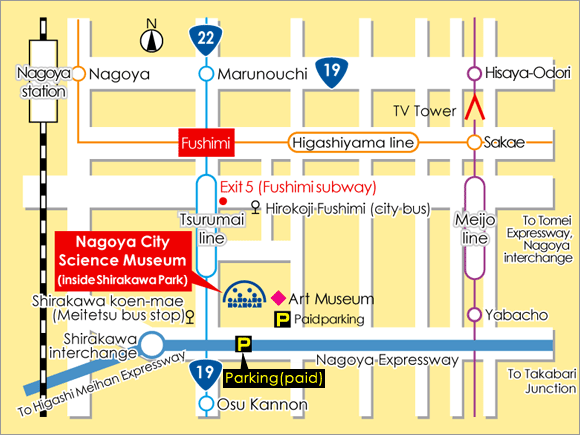 Image 名古屋太郎 [
CC BY-SA 3.0
or
GFDL
],
from Wikimedia Commons
Image from www.ncsm.city.nagoya.jp